En 2023, le réseau EcotoxicoMic célèbre les 10 ans de sa création.
A cette occasion, une journée  francophone sera organisée le mardi 6 juin, de 10h à 17h15, à la Villa Balthazar, située au centre de Valence (Drôme). Elle sera suivie d'une soirée conviviale (18h-21h30), organisée au Musée de Valence (avec au programme une visite guidée et privatisée suivie d'un cocktail dinatoire), pour celles et ceux souhaitant prolonger les festivités.
Les intervenant(e)s seront présent(e)s à Valence mais il sera possible d'assister à cette journée soit en présentiel, soit en distanciel, grâce à une captation et une retransmission en direct des échanges.
L'inscription (en présentiel ou distanciel) est gratuite mais obligatoire (jusqu'au 20 mai 2023 pour les inscriptions en présentiel et jusqu'au 2 juin à midi pour les inscriptions en distanciel) à partir de ce lien.
In 2023, the EcotoxicoMic network celebrates the 10th anniversary of the creation of its French section. On this occasion, a French-speaking day will be organised on Tuesday 6 June in Valence (France).
Cette journée, placée sous l'égide d'un Grand Témoin (Sylvie Nazaret, Directrice de Recherche CNRS, Directrice de l'UMR5557 LEM Ecologie Microbienne) sera animée par un professionnel (Mathieu Rouault, Journaliste Scientifique à Grand Labo) et illustrée en direct par Cled'12, Dessinateur et Caricaturiste.
Le programme prévisionnel est le suivant: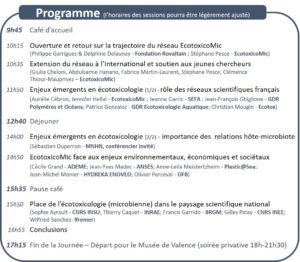 Cette journée francophone se veut conviviale, informative et initiatrice d'échanges concernant la place du monde microbien dans les problématiques sociétales et scientifiques en lien avec les questions d'écotoxicologie et de préservation de l'environnement. De nombreux représentants institutionnels et de différents partenaires socio-économiques seront notamment présents à cette occasion pour présenter leur point de vue et échanger avec les participants à ce sujet.
Attention, le nombre d'hébergement est limité dans le centre ville de Valence. Ne tardez pas à réserver votre logement si cela est nécessaire.
———